Rheumatology Case 5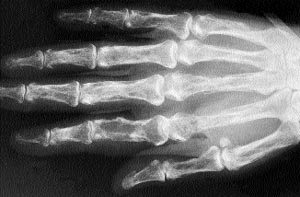 A 40 year old woman presented with progressive muscle weakness and severe aching and pain in the upper and lower extremities. Physical examination revealed tenderness on palpation over the affected bones but no signs of arthritis. Small lymph nodes were palpable in the posterior triangle of the neck bilaterally. Laboratory evaluation revealed severe hypercalcemia. X-rays of the hands showed extensive osteolytic lesions. The differential diagnosis consists of:
1. Sarcoidosis
2. Hyperparathyroidism
3. Metastatic lytic lesions
4. Osteolytic lesions in T-cell lymphoma.